SSRI becomes part of the 6th Annual World Congress on Industrial Biotechnology & Bioprocessing
oscar eduardo
During 19 to 22 July 2009, SSRI's work on the development of a novel expression system for the production of human therapeutic proteins became a part of the showcase of the latest technological developments at The Sixth Annual World Congress on Industrial Biotechnology & Bioprocessing held in Montreal, Canada.
With over 1,100 delegates representing over 32 different countries and with the objective of  bringing together researchers, academics and industry members with diverse experience to share knowledge, the World Congress offered an unparalleled opportunity for SSRI's scientists to present their findings and exchange ideas with their peers on the best ways of pharmaceutical manufacturing of efficacious proteins used for treatment and prophylactics.
The SSRI's team is profoundly grateful to the NSW Department of the Premier and Cabinet for its financial support in making the opportunity to be part of the World Congress a reality.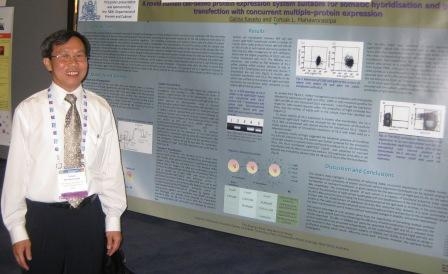 Dr. Mahaworasilpa at the poster titled: "A novel human based expression system suitable for somatic hybridization and gene transfection with concurrent multiple-protein expression."