SSRI goes to Bangalore Bio 2009
oscar eduardo
During 18 to 20 June 2009, SSRI was one of the research organisations attending the Bangalore Bio 2009 Conference held at the Hotel Lalit Ashok, Kumara Krupa High Grounds, Bangalore, Karnataka, India.
This event was promoted by the Department of IT and Biotechnology, Government of Karnataka and the Vision Group on Biotechnology. Being one of the largest and most productive biotech events for the life sciences industry in Asia for the previous eight years, speakers from across the globe, including France, Germany, UK, Canada, Australia, Singapore, Malaysia and China, shared information on strengths, issues and opportunities across the entire value chain from research and development to clinical trials, manufacturing, and regulation.
This year, the keynote address was delivered by Sir Richard J. Roberts, who was awarded the Nobel Prize in Physiology and Medicine in 1993, for the discovery of introns in eukaryotic DNA and the mechanism of gene-splicing.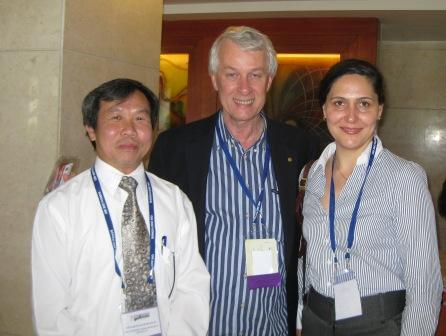 From the left: Dr. Mahaworasilpa, Sir Richard Roberts and Dr. Kaseko